(6 servings)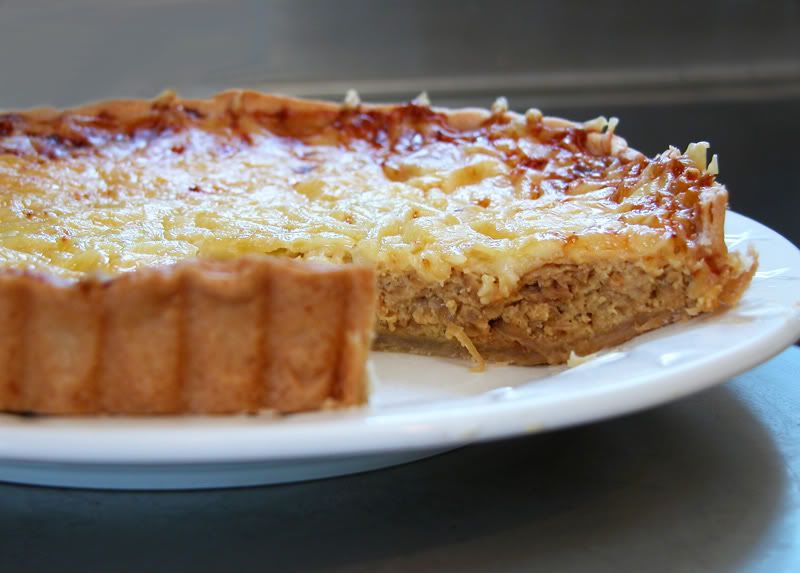 Whenever I see those large Vidalia onions at the market, I think of this tart. The sweetness of these onions becomes very apparent after a long and slow saute over low heat. It takes a while, but the wait is worth it.
2 tbsp olive oil
3 large Vidalia onions, sliced (about 2 lbs)
3 large eggs
1/2 cup sour cream
1/4 cup milk
salt and freshly ground pepper to taste
pinch of nutmeg
1 9" unbaked pie shell
2 cups shredded swiss cheese
Heat the oil in a large non-stick skillet over medium-low heat and add the onions. Toss them to distribute the oil. Adjust the heat to low and saute these gently until the onions have taken on an amber hue; about 45-60 minutes. Check them every 10 minutes or so and stir them up a bit. Remove from heat.
Preheat oven to 450°F.
In a small bowl combine the eggs, sour cream and milk. Whisk until smooth. Add the salt, pepper, nutmeg and the onions and toss to combine evenly.
Spoon the mixture onto the pie shell and sprinkle the cheese evenly over the top.
Bake in the centre of the oven for 10 minutes, then lower the heat to 350°F and bake another 10-15 minutes or until the pie is puffy and the top is browned.
Cool for 5 minutes before slicing. This tart goes well with a simple green salad.