(6 servings)
I love stuffed vegetables. These have a Turkish flavour to them; the mint does it, I think.
These almost didn't get made today. I slept in unintentionally and to make up for lost time decided to shop at a grocery store which is closer to me and is supposed to have a decent organic section. What a disaster! The meat and fish isle stank to high heaven. Some of the chicken actually had a green hue to it. How can anyone shop there and then think about cooking?
I hightailed it out of there and drove the extra way to Whole Foods.
12 small bell pepper, tomatoes, or 6 zucchini ,(I used zucchini and tomatoes; the peppers were too large today)
1 tbsp olive oil
1 onion, chopped (about 1 cup)
1 clove garlic, minced
1 tbsp dried mint
1 1/2 tsp dried dill
salt and freshly ground black pepper to taste
1 cup beef broth
1/2 cup rice
1 lb ground lamb or beef
1/4 cup dried currants, I had to use raisins again; does no one in Dallas know what currants are?
Cut off the tops of the peppers and remove the seeds, or cut the tops of the tomatoes and scoop out the centres or cut the zucchini into 2 pieces (across) and scoop out those. Reserve the scooped out tomato and/or zucchini.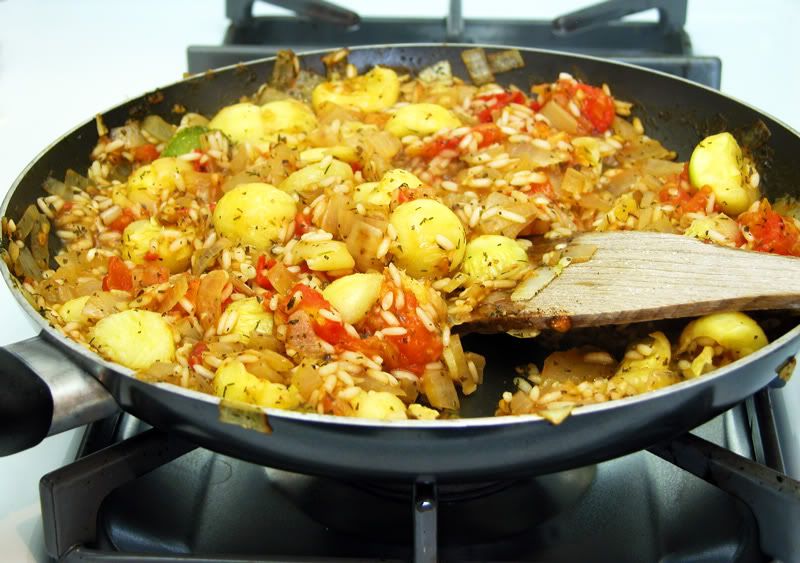 Heat the olive oil in a non-stick skillet over medium heat. Add the onion and minced garlic and saute until the onion is soft. Add the mint, dill, salt, pepper, 1/2 cup of broth (reserve the other half) and the rice. Add the scooped out tomato and/or zucchini. Lower the heat a bit and cook for about 10-15 minutes until the liquid has absorbed into the rice. Remove from heat.
Preheat oven to 350° F.
In a bowl combine the rice and vegetable mixture with the ground beef or lamb and currants; if you can find the damn things /cry.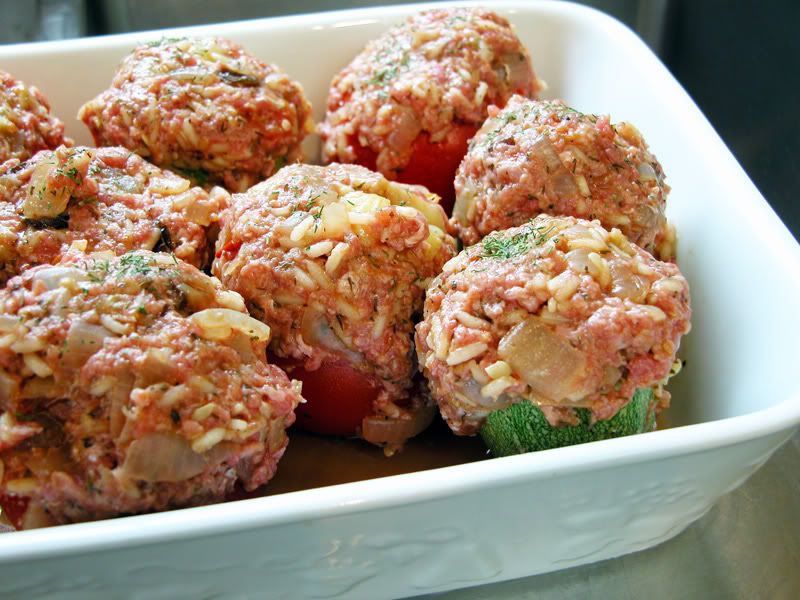 Fill the prepared vegetables with the meat mixture and place them in one layer on the bottom of a casserole dish. Pour in the remaining 1/2 cup of beef broth. Cover with aluminum foil and bake for about an hour.